Alesis DM10 Studio Drum Kit Review
The professional DM10 Studio Kit 6-piece electronic drum set supplies natural-feeling RealHead drum pads. The Alesis DM10 kit also includes low-noise-emitting DMPad Cymbals, the groundbreaking DM10 drum module, and a compact, flexible four post stage rack.
DM10 Module
You will notice the DM10 module's outstanding sound quality, immediately. This drum-sound module contains true drum, cymbal, and percussion sounds, created from real samples of classic studio drums and prized cymbals. Drummers will find some of the most in-demand acoustic drum sounds from legendary drum brands including: a huge arsenal of top-producers' go-to snare drums; real American, Canadian, Chinese, and Turkish cymbals; and a choice selection of classic drum machine and electronic percussion sounds which have fueled the biggest hit records.
The drummer's discerning ears will notice that each of the Alesis DM10 module's sounds are actually a series of different samples; multiple dynamic-level samples and articulations are all built in, so as you play harder and softer, the drum or cymbal changes its timbre—not just its volume. This engineered realism is known as Dynamic Articulation–an Alesis exclusive.
The Drummer can play the Alesis DM10 electronic drum kit with or without reverb for different room sounds and enjoy a wide variety of rim shots, rim clicks, and different stick-placement sounds on the cymbals. For example, a hi-hat's sound depends on a number of factors—how open or closed the pedal is, how hard it is struck, and many other variables. The result: 40 different sounds, plus foot chick and heel splash.
The DM10 Studio Kit's sound module not only has an awesome collection of sounds onboard, it is also the world's first drum-sound module that enables the drummer to load new sound sets via USB connection from your computer. This means that your sounds will always stay fresh, current, and cutting edge.
The demanding drummer can also use the Alesis DM10 as a trigger-to-MIDI interface for performing and tracking with software drum modules such as BFD, Toontrack, and Reason, among others. For practice, you can play along with the tracks in the DM10′s internal sequencer, mix in an MP3 player, and play along.
The Alesis DM10 module has 12 trigger inputs, perfect for creating custom configurations. The DM10′s top-panel mixer gives the drummer easy access to creating custom mixes.
Alesis Realhead Drum Pads
The DM10 Studio Kit features Alesis' acoustic-feeling RealHead pads in 10″ and 8″ sizes. The dual-zone pads feature real mylar drumheads and real triple-flanged counterhoops for the feel you demand. The snare and tom pads are dual-zone enabled, which allows you to perform rimshots, rim clicks, or assign other sounds such as wind-chimes, cymbals, gongs and cowbells on the tom rims.
RealHead snare and tom pads ared mounted on standard 10.5mm L-rods with low-slip, knurled mounting surfaces.
You can use virtually any single or double kick pedal with the RealHead Kick Pad (kick pedal is sold separately), or split the DM10′s kick input with a Y-cable and connect an optional second kick pad for the pedal feel you prefer.
Alesis DMPad Cymbals and boom stands
The DM10 Studio Kit includes a set of four low-noise Alesis DMPad cymbals. The electronic drum set includes 1 DMPad hi-hat cymbal, 2 DMPad crash cymbals, and a 3-zone DMPad ride cymbal. DMPad cymbals provide a rubberized playing surface for a great balance between natural cymbal feel and low stick-on-pad sound. The ride and crash cymbal feature large choke triggers on the undersides for superior, accurate cymbal control. The DMPad ride also features multi-zone triggering on the bell, face, and edge. The DMPad hi-hat cymbal and RealHat pedal give you continuously variable control from wide open to tightly closed. Cymbals are mounted on awesome boom stands for tons of mounting possibilities.
Alesis four post stage rack-new for 2011!
Alesis equips the DM10 Studio Kit with an awesome, black aluminum four post stage rack. The stage rack is fully adjustable and large enough to easily accommodate adding on additional pads, yet takes up a fraction of the space of an acoustic kit so it's perfect for studios and rehearsal spaces. It employs standard 1-1/2″ tubing for compatibility with virtually all drum manufacturers' rack hardware.
The Alesis DM10 Electronic Studio Drum Set Features:
* DM10 high-definition drum module with 12 trigger inputs and mixer
* RealHead 10″ snare and four 8″ toms; dual-zone drum pads with real mylar heads
* DMPad cymbals: hi-hat, two crashes, and triple-zone ride
* Black aluminum StageRack
* Premium sound library of uncompressed samples from real drums and cymbals
* Dynamic Articulation changes sounds' timbre along with dynamics for realism
* Sound-set loading and use with software drum modules, both via USB
* Play along and record yourself with the sequencer function
* Mix input for practicing with CD and MP3 players
Includes:
* 1 DM10 drum module
* 4 RealHead 8″ dual-zone drum pads
* 1 RealHead 10″ dual-zone drum pad
* 1 RealHead kick pad
* 1 DMPad 12″ hi-hat cymbal
* 1 DMPad 12″ crash cymbals
* 1 DMPad 14″ ride cymbal
* 1 StageRack with mounting clamps and arms
* 1 RealHat pedal continuously variable hi-hat control pedal
* 1 set of interconnection cables
* Boom cymbal stands
This fabulous electronic drum kit gives you more drums, more cymbals, more sounds, more flexibility, and more value to power your creativity.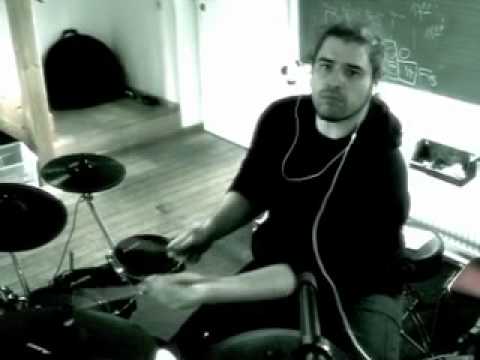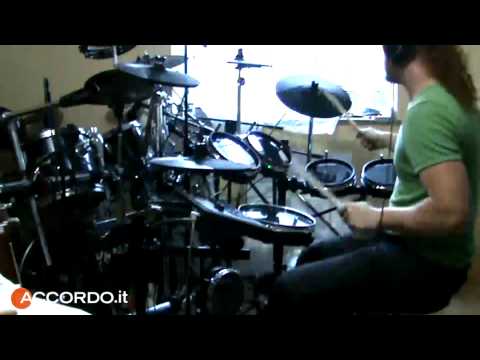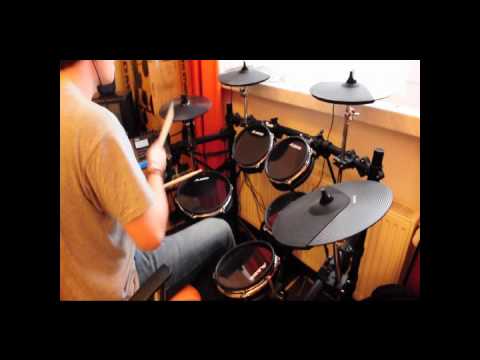 Rating:

This is one beautiful electronic drum set at a beautiful price. I personally own the 2010 version and love it and I'm thoroughly impressed with this drum kit. I put in a lot research looking at different sets from different manufactures, etc and this kit just fit the bill perfectly. I'm still amazed at the price
for such a high quality electronic drum kit that includes adjustable drum heads, a great module, hardware and more…Finally, an electronic drum set that comes stock with more than just the standard, 5-piece set up with only two cymbals on top…The DM10 module is a sophisticated drum brain that delivers plenty of choices and allows the drummer full flexibility. And, being able to load new kits and sounds through 3rd party programs like Toontrack EZ Drummer and Addictive Drums is one of the most impressive features that allows the player endless possibilities and quality, professional, fully adjustable sound sets. This definitely needs to be checked out by all.
One thing…If you pick this kit up, make the investment and get some good studio-quality headphones…It's night and day difference when listing through pro equipment and picks up every hit, tap, ghost note, thumping bass, etc. These are what I use and absolutely love them:
Audio-Technica Studio Monitor Headphones
.

Also, if you really want to turn this into a pro-level recording machine, check out my review on coupling this set with Superior Drummer 2.0 and Addictive Drums…They turn this drum kit into a recording beast.


Tags: alesis, DM10, drum, electric, electronic, kit, review, set, Studio
Other Reviews you might also like:
Toontrack Superior Drums 2.0®, Jazz EZX®, Metalheads EZX® and Latin Percussion EZX®...everything...
Addictive Drums...Making a $1,000 electric drum kit sound like a $6,000 drum kit. Have...
Sabian HHX Super Cymbal Pack Sabian delivers the the greatest playing experience...
Prodrumreviews.com...Your source for drum reviews, electric drum reviews, cymbal reviews and more...